HOW TO HEAL:
Blood Flow Stimulation Therapy™
SUPERIOR TREATMENT FOR SOFT TISSUE INJURIES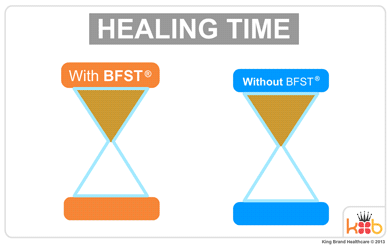 The safest, most effective way to recover from most injuries is to use the body's natural healing process. However, simply letting your body heal on its own can take months, and leaves you vulnerable to re-injury. You can accelerate this process however by improving your blood flow, which will drasticly reduce the treatment time and risk of re-injury.
Many people perform physical activity to try and increase their circulation. However, this can be very dangerous as it opens you up to chronic re-injury. In order to recover, you need to be both at rest and increasing blood flow.
The best way to improve circulation while keeping you safe from re-injury is to use a Blood Flow Stimulation Therapy™(BFST®) device. These devices are worn like wraps about the injured body part, and use EMR technology to increase circulation even at rest. BFST® wraps are able to reduce overall recovery time, enabling you to heal from your injury faster and more effeciently.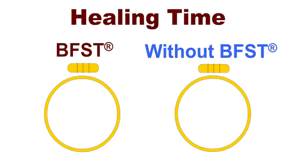 Benefits of using BFST®
→

Click here for more information on Blood Flow Stimulation Therapy™
NATURAL HEALING PROCESS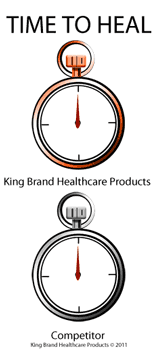 You are injured when the tissue in your body is damaged. Your body has the ability to heal itself, and if given time will fix the wound on its own. The body requires rest and cannot be stressed while it is in the process of recovery. However, most people do not have the time in their busy schedules to rest and let themselves heal for long periods of time.
The solution to this problem is to increase the flow of blood to the injured area. Blood carries essential nutrients and oxygen to tissue that gives it the energy to repair damage. By improving circulation, you can bring more mending power to the injured area, decreasing the total treatment time.
Normally to increase your blood flow you need to exercise or other physical activity regularly. For someone who has been recently injured, though, this is dangerous! Re-injury is a very real problem, and if you re-injure yourself you are sent back to where you started.
Using a BFST®, however, has no risk of re-injury compared to physical activity and exercises. BFST® can be used as a safe, effective means of improving circulation, with no effort required. You can stay completely at rest while using the wrap.
→

Click here for more information on Blood Flow Stimulation Therapy™
ADVANCED MEDICAL DEVICE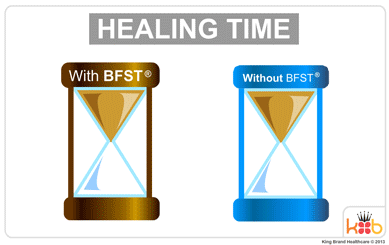 While some people may feel a warm sensation using the wrap, BFST® is not a heating pad, but something much better. Blood Flow Stimulation Therapy™ medical devices emit penetrating stimulating energy into your injured tissue. The energy reaches deep under the skin to stimulate bloodflow at the source instead of just the surface like hot pads do. BFST® medical devices provide the superior healing power of Energy Web® technology, without getting hot like heating pads do.
→

Click here for more information on Blood Flow Stimulation Therapy™

COMFORTABLE TO WEAR
Each BFST® is enclosed in a soft Neoprene wrap, designed for a comfortable treatment experience. During treatments, the BFST® has a feeling of warmth; a feeling many enjoy while at the same time treating their injury in the best way possible. The shape of the wrap is far from generic; each wrap is crafted with a specific body part in mind for the best fit possible. The flexible design of BFST® wraps allows you to move the treatment area and not be inhibited by the wrap, so the things you want to do don't have to be put on hold during treatment.
PRODUCT OF THE MONTH
Side Shoulder BFST® Wrap
Treats:
Rotator Cuff Injuries
Upper Bicep Tendonitis
Deltoid Injuries
FORUM CONTENT FROM THE HEALTH CARE COMPANY KING BRAND®
How To Submit Customer Feedback
Thanks for being interested in submitting your feedback. This is always very helpful to us - it drives us to further improve the customer service experience we provide and enables us to continually develop and enhance our product offering - but.... most and foremost..... it helps people who have yet to try our products! Just like you did, they want to know whether our ColdCure products can really help alleviate pain and take down their inflammation and swelling. They also want to kick-start their healing process and speed up their recovery time. You can help, by telling them what you purchased and the results you obtained!

Once you log your feedback, we will verify who you are and confirm that the product(s) you mention in your feedback are what you actually purchased. The FDA and Health Canada also require by law that all testimonials are traceable to their source to prevent false claims. This provides readers with the reassurance that you have independent, unbiased feedback based on real experiences. Unlike with Ebay and Amazon and other shopper sites that are full of fake posts by sellers and their competitors it is illegal to make a false review here.

We look forward to reading your comments and thanks again for taking the time to provide this valuable information to others!
How To Submit Customer Feedback
I didnt know where to ask this but I did look at the Faq section but I kept getting errors.

How can I change my signature? I looked every where but couldnt find it
Re: How To Submit Customer Feedback
Sorry, signature in what? Have you already sent us feedback?
Signatures are not required when submitting.
Please provide more details so I can assist your further.
Re: How To Submit Customer Feedback

I

I began my 1st back and hip Coolwrap treatment five days ago and was amazed that my sciatic pain disappeared after one hour. Nothing traveling down my leg and that lasted until the evening. I'm cooling the pads in the refrigerator and I'm able to switch them without needing to wait 20 minutes as I would if the pads were in the freezer. My sciatic pain began five years ago. Initially, it only bothered me while walking. Eventually it progressed to pain when I rolled over in bed and even while standing. Only sitting relieved it. This morning I will pick up my BFST back and hip wrap to begin my heat therapy. I can't overstate how big a deal this is.for me.
Re: How To Submit Customer Feedback

I'm replying to my previous post; don't know if that's the way to do it. Although the sciatic pain while walking or standing hasn't completely disappeared since I began my treatment five days ago, it has significantly diminished. My back and hip BFST arrived two days ago and I began using it along with the cool wrap. The BFST heat is mild unlike a heating pad. Very comfortable and the twenty minute treatment time passes isn't time consuming. My girlfriend has multiple pain issues: from shoulders down to lower back and hip (hip surgery). Daily I rub on CBD salve or another product to help relieve her pain, but it's temporary and expensive. Hoping that she will get relief with the cool wrap and want to do it regularly.
→

Click here for the the full King Brand® Forum
Copyright 2011-2021 King Brand Healthcare Products® Limited. All Rights Reserved.
Rigigel Gel Pack,
Rigigel Gel Pack,
Bakers Cyst,
Plantar Fasciitis,
Infraspinatus Injuries,
Cortisone Information,
Cortisone Treatment,
Supraspinatus Tear Treatment,
Descartes Engineering and Web Development,
King Brand Healthcare Products,
Professional Back Treatment,
Perpachill Coldcure Technology,
Foot Tendonitis,
King Brand
®
ColdCure
®
Cold Therapy ice packs and gels are the best solution to your ankle soft tissue injury. King Brand
®
ColdCure
®
RigiGel
®
Ankle Wraps hold the cold longer, stay in place and are safer than any other product. Treat your ankle pain with King Brand
®
for the best results.